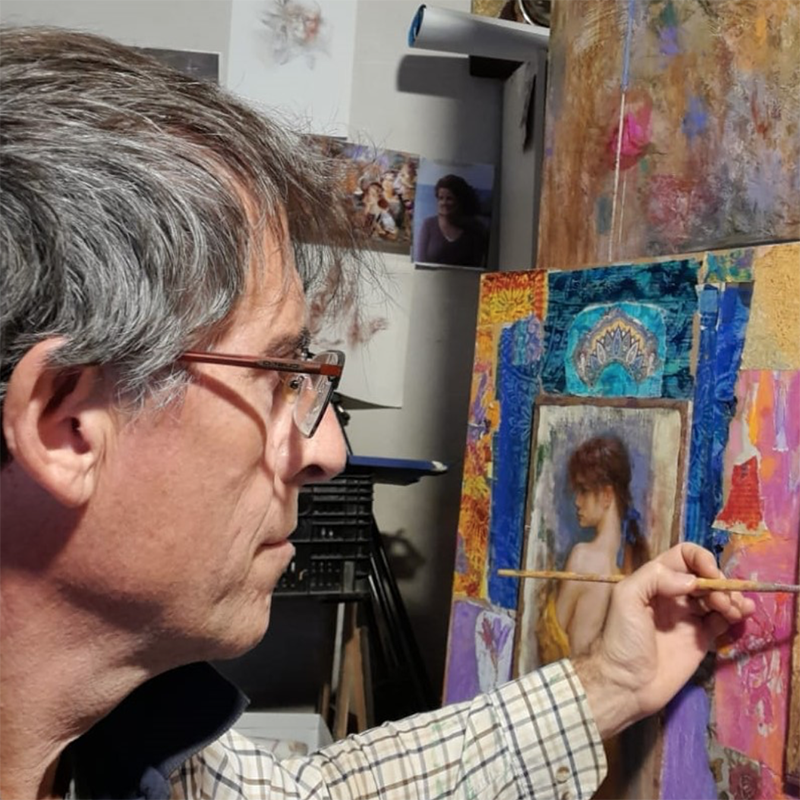 Biography
Goyo Spain 1960
"I was born in the bosom of a modest family. My father had a natural talent for drawing and he made portraits of his brothers during a long convalescence due to a serious illness. Undoubtedly, I inherited this love for drawing and from child I used coal pieces to create small murals on the whitewashed walls of the courtyard, always under the attentive look of my mother.
At the age of ten years old, I entered the "H.H Maristas" to initiate High School. I found there an environment that stimulated my love for arts, as several theatrical, musical, literary, or pictorial activities were frequently organized. I had the opportunity to draw large murals with religious content that reached a wide dissemination in Spain and Spanish America.
In 1982, I started the Fine Arts degree in the Complutense University of Madrid, I deeply remember the tips and the dedication of the Professor of drawing, who offered me the possibility to stay in the University as associate lecturer.
In 1990, the art dealer Sam Benady opened a gallery close to the Museo del Prado and proposed me to begin working exclusively with him, carrying out the promotion of my work around prestigious galleries in the world until 2008.
From the work over the last years, I would like to emphasize my involvement in the Cosenza Project. In this beautiful Calabrian town and during two months I painted five murals measuring three meters in length and a height of two meters representing historical scenes related to the Spanish influence in that Italian region. It has been a human and artistic wonderful experience as it has allowed me to share my passion for art with masters like Jhon Pickind, Richard Whimcop, Silvia Pecha and Alexander Barberá Ivanov. Moreover, this artistic experience made me known the prodigious richness of working as a team in a creative project, forgetting fixations and personal interests to get a common objective. It has been something new for me, being used to always paint in the loneliness of my study, and for which I am deeply grateful".